Crystalline Silica Health Hazard! Silly Humans, Kitty Litter Is For Cats!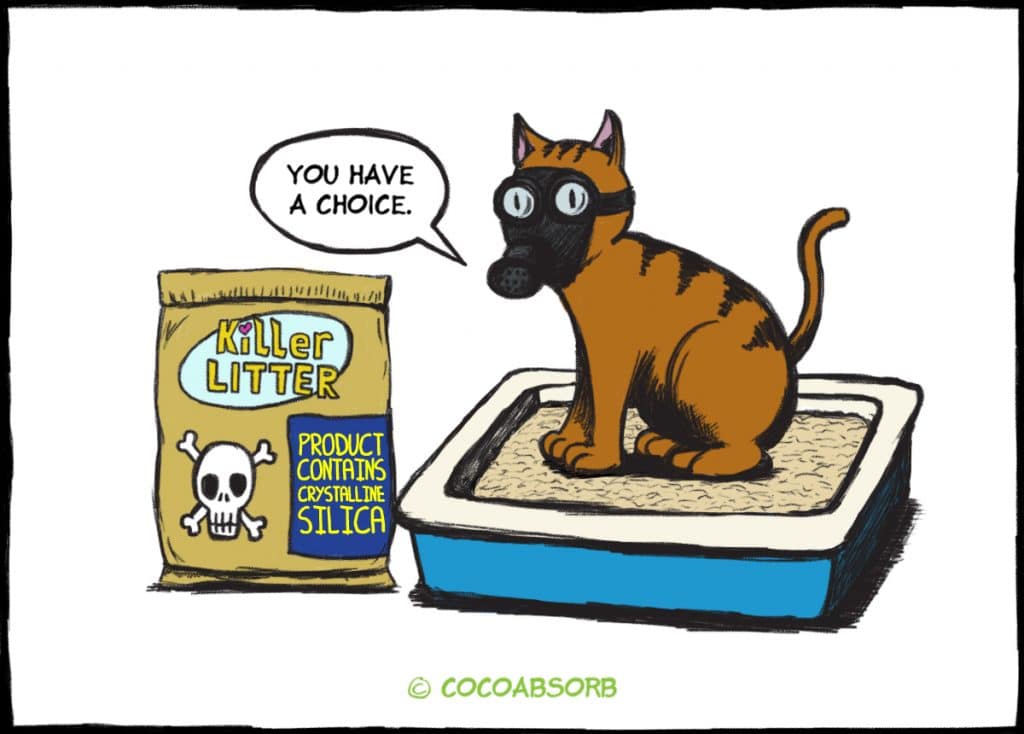 Are you still using "kitty litter" to clean up spills? Did you know that your clay-based kitty litter absorbent contains crystalline silica which is a known carcinogen? When crystalline silica is inhaled into the lungs it can result in life-altering debilitating diseases like lung cancer, emphysema, and other respiratory diseases.
That is exactly why the Occupational Safety and Health Administration (OSHA) acknowledged that crystalline silica is a significant health hazard. Considering the significance of the hazard, new standards have been enacted and must be adhered to beginning September 23, 2017. These new standards require employers to reduce and limit worker exposure of respirable crystalline silica (RCS). Employers are required to implement dust controls, provide respirators and train employees to avoid inhalation of RCS.
One way to circumvent RCS in your business is to adopt the most tested absorbent in the world! Coco Absorb™ is an all natural, silica-free, 100% organic, non-carcinogenic, and pesticide and chemical free spill absorbent. Not only is Coco Absorb™ a superior natural alternative, but the benefits of Coco Absorb™ far outweigh any clay-based spill kit. In fact, Coco Absorb™ can absorb spills instantly with one application, can be reused multiple times, is lightweight and won't cause injury to backs, can separate oil from water, and most importantly, Coco Absorb™ is safe for the workplace and safe for the environment.
Comparing the advantages of Coco Absorb™ to kitty litter is clear. Kitty litter requires a lot of time and effort, it doesn't absorb spills instantly, usually requires more than one application, kitty litter can only be used once, it's very heavy and cumbersome, cannot separate oil and water, and above all that can be hazardous to your health!
Complying with government regulations and environmental standards is never an easy challenge, that's why Coco Products designs our products with our customer's health and the environment in mind, for the workplace and for all employees.
Get compliant – get Coco Absorb™!